Perceive the small moments,
where life is deep and pleasant
breathes through. Far away from stress and
Hectic pace to calm down.
Perceive the small moments when life breathes deeply and comfortably.
Far away from stress and hustle and bustle come to rest.


Feeling, power in life - working together.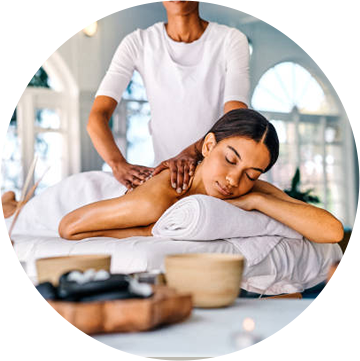 Energetic massage with energy stones


Hello heart man, nice that you are here.
Everyone has their own story, just like you and me. Mine has been so far, anything but normal. For a long time I let myself be guided by my fear, no longer perceived myself and only functioned. I could no longer assign my feelings, there was only emptiness inside me. For many years of my life I have tried to adapt to my environment, to my counterpart. A NO was unimaginable for me, so that at some point it was not at all clear for me who I am and what makes me. It changed my body and my health insidiously. But what always made me stand up was the desire to live my life in a self-determined way, to live without fear and to be happy.

In order to find the path to my true self, I sought holistic guidance outside of mainstream medicine. I started with purposeful energetic trainings and felt very quickly that this was the right path for me. I have read several books on self-healing and attended many seminars and courses.

The more I focused on myself and not on the outside, the more alert I became to the often unconscious blockages and disease patterns in my fellow human beings. It opened the access to myself. I became more sensitive to my own needs and gave them space to show themselves in all their facets. It was a feeling of love that was never gone – only I didn't want to see or hear it. I discovered my inner values, more truthfulness and a more respectful approach to myself. And today I know that this path was very important for me, and everything has its meaning and was allowed to be.

My name is Silvia Kaiser. Together with my husband, our two sons and our dogs and cats I live in Eberstalzell. I love walking with our dogs and spending time in nature. After classical schooling and an apprenticeship as a wholesale merchant, I first immersed myself in the working world. After this time, I worked for many years as an office administrator in various industries. The work in the office did not fill my heart and so I dived into the world of spirituality for the time being. I realized very quickly how "easy" life can be when you take your LIFE into your own hands and have a clear view of your individual path. In 2014 I started with kinesiology and more trainings followed. In 2015 I took the step into self-employment, where I am allowed to accompany people daily to free themselves from their fears, to let their heart speak, to come into their full power.

Let's dive in together and flow through themes and energies to activate your self-healing. To bring your body, soul and spirit back into harmony so that you walk your path in love and joy.

If you can feel what you see with your heart.
If you can describe what you feel in your words.
When you find what you are looking for in your own soul.
Then you are on the right path to living your life.
2014 NK Institute Neuroenergetic Kinesiology by Hugo Tobar
2015 Reiki 1 and Reiki 2
2016 Reiki Master Degree
2017 Singing Bowl Energetics
2020 Access Consciousness © Bars Practitioner
2020 Touch f. Health
2020 Hot Stone Massage
Courses with Birgit Fischer (www.powersoul.at):
Coulour Healing Training
Trance Basic Workshop
Starseed Lecture
Starseed diet
Loving life
Regular participation in full moon live session
Annual training Starseed Academy 2023
Here you can find an excerpt of my testimonials and references.
I accompany people to free themselves from their fears, to come into their power.